For our UPDATED 2021 article with both VIRTUAL and IN-PERSON holiday party ideas, click here!
With large parts of the country seeing Covid-19 cases on the rise, in-person corporate holiday parties are off the table this holiday season. While it may seem like you have no option but to skip the festivities this year, that is not the case. You simply need to embrace the virtual alternatives. And while virtual holiday parties won't have the same look and feel, they can still be a lot of fun when you do them right.
But before I get into some of the specific virtual holiday party ideas you can try this holiday season, we've got to talk about some other things first. Let's start with…
The Challenge of Virtual Holiday Parties
For most event planners, going virtual is a necessity they never planned for. Hosting a virtual holiday party definitely has its challenges.
Keeping Engagement
It's far easier to hold someone's attention at a live, in-person event than it is when they are home, sitting on their sofa in front of their laptop. That's why it's important to get the content and length of your virtual event just right.
Mailing Items
There are those holiday event ideas that require you mail your employees specific items and ingredients. This can get very chaotic very quickly, depending on how many staff members you have. There's buying the items, buying the packaging, packaging said items and mailing them off. Plus, mailing liquor can be tricky in most states. To keep things simple, it's best to outsource this project to an event planning agency with experience. (Hint: We can help)
Making it Fun
There are different things you need to take into account with a virtual holiday party to ensure everyone has a good time. Beyond selecting the right activities that will appeal to the majority of your attendees and choosing the right host to bring your activities to life, you'll also need to leverage the right virtual platform to ensure everything goes smoothly.
Tips for Your Virtual Holiday Party
Don't Rely on Zoom
Video conferencing solutions like Zoom and Google Hangouts have become the go-to platforms for many business owners needing to connect with remote workers. But trust me, holiday parties are dang near impossible to do well on these platforms where only one person can speak at a time and no one can really virtually mingle.
There are better platforms out there that are designed to give your staff as real of a social experience as possible. These 3rd party platforms can host games and other activities, and will help you easily move your attendees from room to room while playing music, etc.
Keep it Short
We have found that a virtual holiday party that is longer than 2 hours will end with many of your employees turning off their cameras and you will have wasted a lot of money. Your safest bet is to keep your event short and sweet.
Keep Traditions Alive
Just because you have to do things differently this year doesn't mean you can't keep some of your traditions alive. If you normally announce employee awards, hand out gifts or have your CEO speak, there are ways to incorporate these traditions into your virtual event.
Virtual Holiday Party Ideas
Here are several great ways to host holiday parties with employees virtually.
Tip: For virtual events, plug your laptop into your TV with an HDMI cable to enjoy the party with a larger picture and better sound.
Virtual Cocktail Holiday Party with Entertainment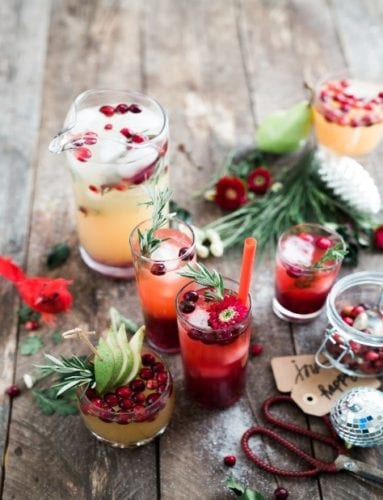 A few days prior to the party, send all employees their party essentials for the big day. Hire a fun mixologist to get the party started by hosting a virtual mixology class and showing everyone how to make their drinks with the ingredients they were sent.
Set up a party playlist so everyone is hearing the same beats or kick it up a notch and hire a band to stream virtually while everyone enjoys their cocktails from the comfort of their own home.
Virtual Wine / Beer Tasting and Trivia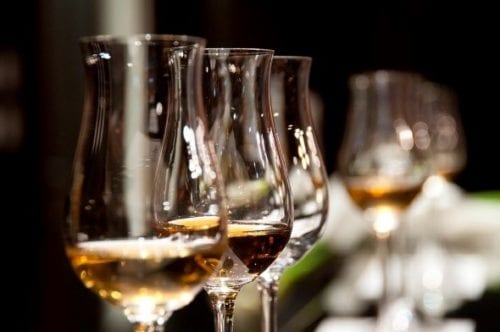 Pick your favorite brewery, winery, or both, add cheese pairings and send your employees all the goodies prior to the party to set up a virtual tasting for the whole company to enjoy as a group.
Hire an enthusiastic expert to walk you through the tasting, or consider turning it into a tasting and trivia holiday party.
Bring in a game show host to moderate the trivia and get people engaged in the fun by offering small prizes for the winners.
Drive-by Pop-up Holiday Party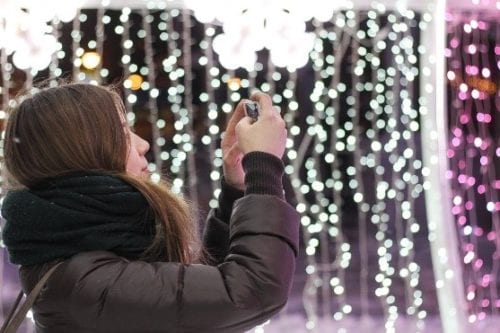 Get dressed up in your best holiday party outfit. Set up a pop-up winter wonderland photo opt for your employees to drive through and get their holiday party photos.
As they drive through to greet them from afar and have to-go dinner to grab for them and a spouse or nice charcuterie board and a bottle of wine for them to enjoy at home.
Drive-thru Holiday Dinner Party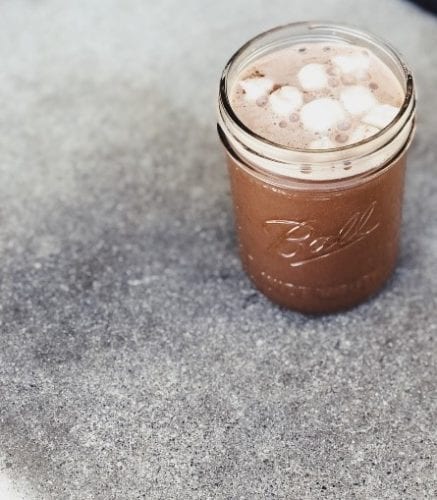 Create a mini drive-through trail of lights for your employees to enjoy from the comfort of their car. Offer stations of gift bags, appetizers, hot cocoa, and mocktails to grab from the car so they can enjoy along the way.
Drive-In Dinner and Band Party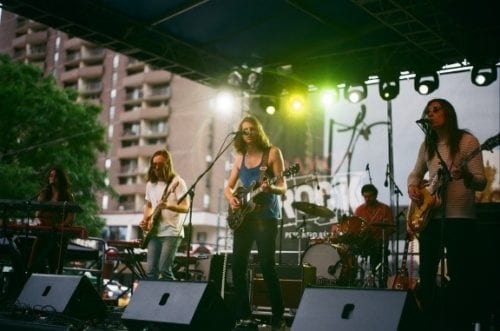 Skip the screen and create a drive-in holiday party! Think drive-in movie but hire an awesome band to perform live that your employees can enjoy from their vehicle while staying socially distant.
Create that perfect holiday menu and bring the delightful meal right to your guests' car windows.
Socially Distant In-Person Holiday Party
Want to consider some in-person interaction?
Find a venue in your area that has implemented new health and safety guidelines that you feel comfortable with and then consider these tips.
Pre-set tables 6ft apart with the appropriate number of place settings and have people assigned to tables.
Minimize the walking around by having servers available to take drink orders, serve hor d'oeuvres, and plated entrees.
Bring in live entertainment for the whole party to enjoy from their seat
Set up devices at each table that can connect with people at a different table, so everyone gets a chance to mingle with all tables without having to leave their own.
Consider creating a fun holiday theme or company branded face masks to wear as needed.
Carriage Rides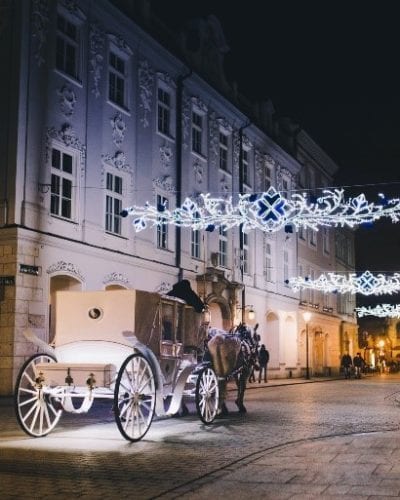 Set up festive carriage rides that your employees can enjoy one and at a time with their spouse. Serve hot cocoa in branded to-go coffee mugs, holiday gift bags for all, and a nice stroll around town in a carriage which will also serve as a great holiday photo opportunity, so don't forget the photographer!
Virtual Ugly Sweater Party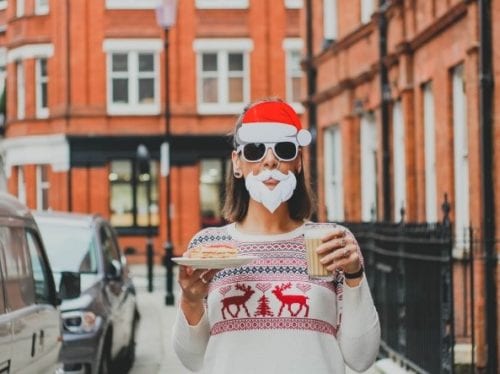 Have the infamous ugly sweater holiday party, but virtual style.
Send out invites informing everyone of the details and to prepare their best ugly sweater outfit for a chance to win the grand prize. Set up virtual games, contests, and entertainment for all to enjoy through the evening.
This would even be a good opportunity to get the whole family involved!
Virtual Holiday Karaoke Party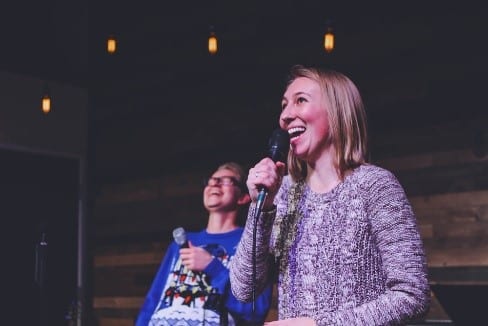 Why not have your employees be the holiday party entertainment and consider a virtual karaoke party?  Send out cute invites along with a karaoke sign-up sheet.
Get people excited and involved by giving away prizes for those that participate or have different categories that they can enter with a chance to win prizes.
If you want to take it up a notch, send out a prop box to each employee prior to the party that equips them with a microphone and fun stage props to take their performance to the next level.
Drive-thru or Virtual White Elephant Gift Exchange
Have all your employees purchase a white elephant gift.
Drive-thru: all employees send in their white elephant gift to be set up at the drive-through event. Have hot cocoa, mocktails, food, holiday photo booth, and a table of white elephant gifts for them to choose from.
Virtual: Prior to your holiday event randomly assign one address to each employee while everyone buys a white elephant gift and sends it to the person/address they were assigned the white elephant gift.
On event day everyone virtually opens their white elephant gift and guesses who sent it to them. Add in a holiday playlist, holiday theme backgrounds, and food delivery (provide a code prior to the party, so they can have dinner delivered compliments of the company).
Virtual Holiday Scavenger Hunt
This is a fun challenge that can add some energy into your virtual holiday party. It only takes about 15 minutes to play and will definitely get your employees moving and laughing. You simply shout out an item and whoever brings it back first gets a point. You can also award extra points if the person shares a personal story about the item.
Some great scavenger hunt items are:
Favorite gift of all time
An item they've owned the longest
Something that reminds them of their grandparent
A Christmas movie
The weirdest vacation souvenir
The Wrap
2020 is not the year to consider canceling your holiday gatherings – you may just need to reimagine them to keep social distancing in mind.
Internal events are crucial for your company culture and your employees will need this end of year celebration more than ever as 2020 has brought many changes to us all.
As you can tell, there is plenty of fun, creative ideas out there to bring your employees "together" for an end-of-year celebration.
Need the Professionals?
Need some help planning your virtual holiday party? We help companies that have just 20 employees as well as F1000 companies plan their virtual events. We'll handle all aspects of planning and managing your event so you can simply show up and have fun with everyone else. Click here to contact us for a quick discussion about how we can help.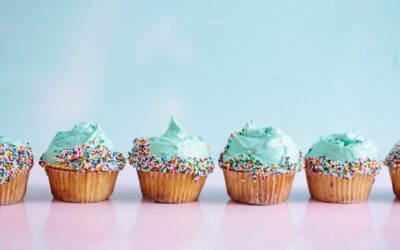 Have you been put in charge of planning your company's virtual holiday party? Stumped for ideas?...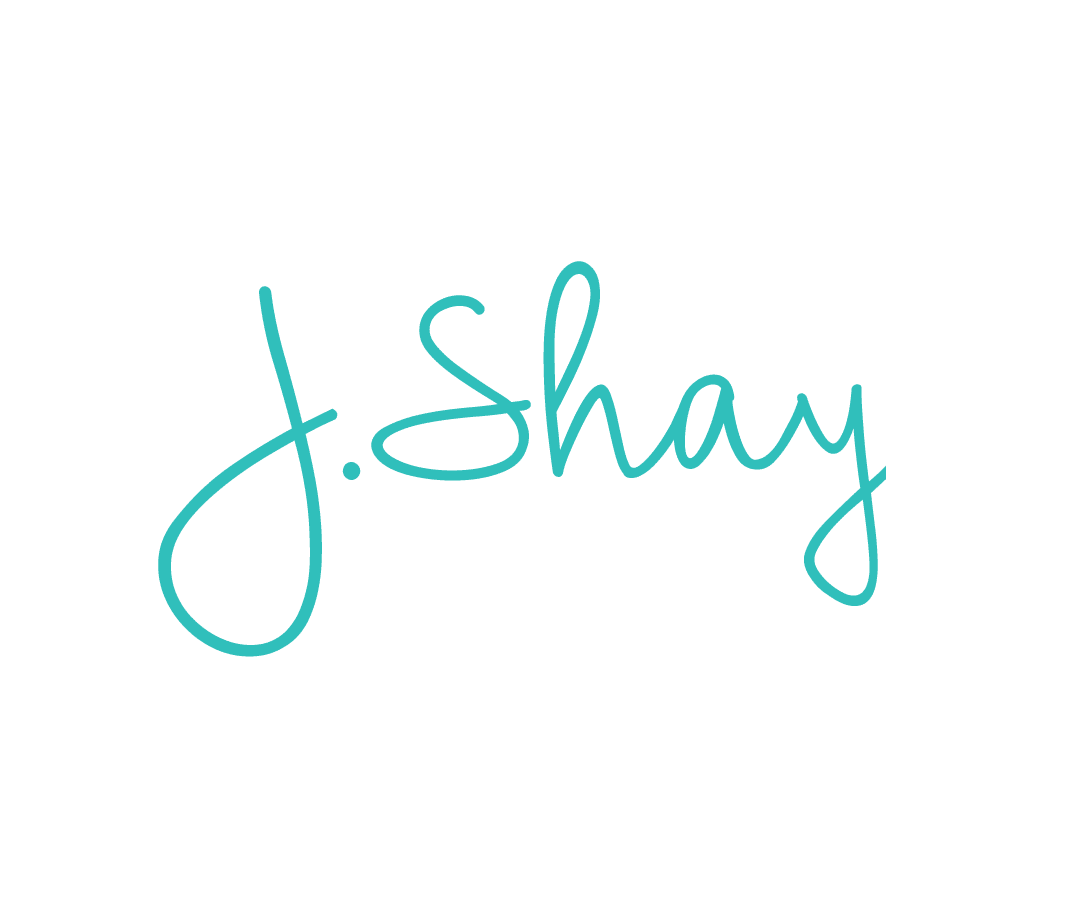 J.Shay Team is the generic alias for our event staff that want to submit work anonymously.