Incentive Travel Services
An Incentive Travel Company That Maximizes Your Results
Incentive trips are one of the most popular topics among your sales staff all year long. It's no wonder why it is commonly considered to be even more motivational than the compensation packages. It's no secret that competition drives sales teams, and incentive travel produces a higher competitive culture than anything else a sales manager can offer.
In fact, the top 20% of companies in any vertical, anywhere are twice as likely to use non-cash based incentives. Moreover, the likelihood that a company has an incentive travel program has increased from just 25% in 1996 to 85% today. Wow!
However, incentive trips are unlike any other type of event you'll plan this year. The time, detail, and money spent on each award-winner is intense – But the rewards for planning an exceptional incentive trip will pay you back multiple times over.
At J.Shay Event Solutions, we are an incentive travel company that prides ourselves on delivering a world-class incentive travel experience for our clients wherever their destination takes them that year. We would love to plan an unforgettable experience for you. Contact us to learn more.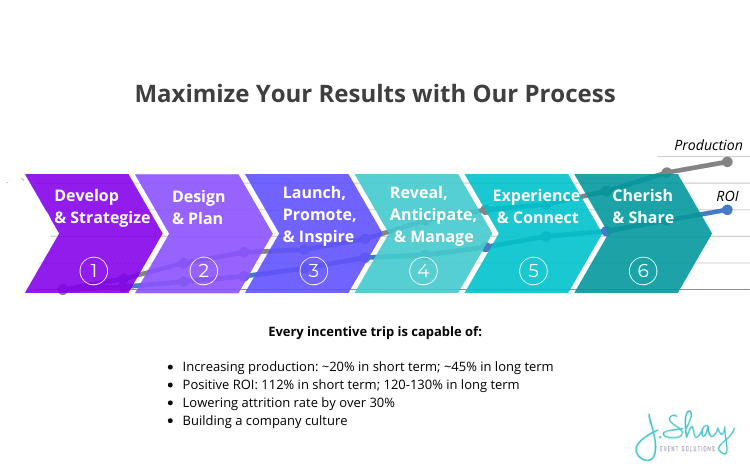 Make your next event your best event.
Destination Sourcing
The destination is paramount. We enjoy working diligently to refine every option possible based upon your budget, travel preferences, seasonality, government, and environmental factors, and so much more.
Our incentive travel team travels to every candidate-resort to tour and interview the staff, accommodations, activities, dining options, and transportation suppliers; to name a few.
Activities & Dining
Every destination offers different dining and activity options. 3rd party ratings and reviews aren't enough for your group. Our team personally inspects and grades each option before presenting you with a viable list.
J.Shay Event Solutions also accounts for your attendees' personal preferences when down-selecting activities, and food and beverage options. 
Registration & Promotion
The registration website is important because it provides information relating to a jam-packed agenda, activities and dining options available, FAQ, destination and resort information, and registration form.
Ensure you are capturing vital information for air travel and transfers, food and activity preferences, and a laundry list of other requirements.
Budget Formulation & Analysis
Your budget for an incentive trip will have more line items, per person, than any other event you have all year.
Ensure you are accounting for every expense, allocating your dollars to the right places, and even end up coming under budget with our incentive travel company.
Logistics
Welcome receptions, award ceremonies, and departure dinners all involve a complex list of moving parts.
We excel at working with different suppliers and vendors from the pre-planning phase, up until the lights turn off.
We do the heavy lifting so your team can enjoy every aspect of the incentive trip.
Air & Ground Transportation
Chances are your award-winners are coming in from all over the country, perhaps even the world. This creates a complex puzzle of arrival (and departure) times that should be coordinated well in advance with transportation suppliers to ensure a smooth and enjoyable experience for everyone.
Additionally, transportation is required for each activity and dining option you'll have throughout the day, every day!
Full List of Incentive Travel Services
Define and understand the goals and objectives
Learn about the company culture
Strategic destination selection
Hotel negotiation and sourcing
Custom and creative itineraries
Securing partnerships with local destination partners
Expert delivery of all logistics
Branded Event Website
Online Registration Site
Dedicated account management and budget management
Ticketing and travel management
Onsite travel management
Detailed travel documentation and collateral
Mobile Applications
Amenity gift procurement
Customized social responsibility programs
Ready to start planning your event?
Numbers Your Business Can Rely On
Events Planned and Managed.
Of all Hotel commissions given back to our clients.
Faster lead times with your Registration Site builds.
Attendees, down to smaller intimate VIP events. We do events of all sizes.
Countries we've planned and executed client events in.