With social distancing being practiced almost everywhere around the world, events and large social gatherings are either being indefinitely postponed or altogether canceled left and right. Some organizers, however, have made the smart decision to transition into virtual events.
It seems like a straight forward transition, right? Wrong.
One of the biggest hiccups we've seen as companies make the transition is to not prepare their virtual event speakers.
The Challenges Faced by Virtual Event Speakers
This new reality obviously poses great challenges to event planners from all around the globe. Amy Calvert, chief executive of the Events Industry Council, even went as far as saying that the impact of the ongoing global health crisis is akin to a violent natural event that completely changed the entire events and trade show industry in more ways than one. Making sure you have well-practiced virtual event speakers is key.
Beyond merely forcing the cancelation of events, current circumstances have also forced event planners to reinvent nearly every aspect of their job. From changing in-person meetings into virtual ones to rethinking how big presentations and buffet lines can be altered to fit the new normal, the pandemic has been nothing short of a huge learning curve for everyone working in the industry.
With most events shifting into the digital space, event planners and virtual event speakers are also expected to speedily learn how to work with online tools that will help turn their events into virtual ones that self-isolating individuals can participate in.
Furthermore, this new arrangement has also made it more difficult for event planners to attain work-life balance, which as highlighted in our previous post 'A Work-Life Balance for Event Planners' should involve having an 'office space' at home, taking scheduled breaks, setting boundaries and making time for yourself.
If you're an event planner who's struggling to navigate the digital space, here are some of the best tips and practices you can employ to make event planning (even in the face of a crisis) easier:
How to Be a Better Virtual Event Speaker
1. Set Realistic Expectations
As the world massively shifts to remote working, more and more studies focused on the science behind the effectiveness of working from home are emerging. Among the articles that take inspiration from these studies, one of the most common tips to achieve better productivity as a remote worker is to practice work-life balance.
Suzanne Rohan Jones, an associate instructor with Maryville University's online psychology program, explains that the concept of work-life balance is different for every employee, and that your working schedule can be the cause of your stress and potential burnout.
Speaking to Thrive Global, she explains that "setting realistic expectations for the amount of time needed to successfully accomplish work activities when also juggling personal commitments will set the stage for more acceptance and less anxiety."
2. Take the Time to Practice
Public speaking, online or offline, is a skill — this means that some people need more practice at it than others. Fortunately, it is something that can be learned and mastered over time. To become an effective virtual event speaker, you have to rehearse like your life depends on it.
Jason Shen, celebrated TED Resident and member of the Presidential Innovation Fellows Foundation board of directors, emphasizes that the secret to becoming a better speaker is to memorize your speech. But it goes beyond just knowing the words — you need to get to the point where you know it as well as you know the 'Happy Birthday' song.
This simple trick will not only ensure that you will be able to deliver your speech despite the nerves, but it will also make it easier for you to make jokes and adapt in the middle of your talk.
3. Slow Down and Pay Attention to Body Language
One of the biggest differences between in-person talks and virtual talks is the pacing of voice reception. For virtual event speakers, make it a habit to pause every now and then. This will ensure that every word you utter is being transmitted clearly and completely.
This practice will also permit better synchronization and make ample opportunity for queries and clarifications. After all, your speech could sound incomplete or choppy to some of your audience who have unstable internet connections. It would also be a good idea to pay attention to your body language to better connect with your audience.
Maintain virtual eye contact, like how you would in a one-on-one meeting. To naturally draw your eyes towards the camera, drag your own video thumbnail to the top-center of the screen. Don't skimp on the hand gestures just because you're speaking on camera either — an animated speaker is still more attractive, even in a virtual event.
4. Consider your Lighting and Camera Placement
Live or pre-recorded, lighting, and camera placement are crucial to any virtual presentation. Jennifer Moxley, Sunshine Media Network's founder explained that, in a virtual event, the virtual event speaker is the visual aids that helps your audience make better sense of the concept the event is all about.
To make your image easier and more appealing to the viewer, set your camera at eye-level by stacking some books or using a laptop raiser. It would also be in your best interest to consider lighting.
To make the best set-up for virtual events, TechCrunch suggests turning on a light and putting it in the right place. Brighten your face and darken the space behind you with lamps, desk lights, cell phone lights or the increasingly popular ring lights.
If you need help with your next virtual event, please click here to contact us!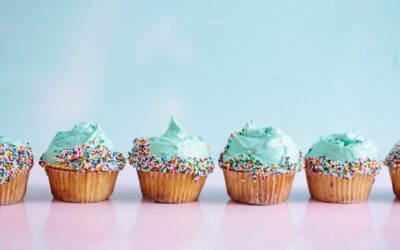 Have you been put in charge of planning your company's virtual holiday party? Stumped for ideas?...