Organizing an event requires planners to make a lot of important decisions. But by far the most important decision is selecting the venue. After all, the space the event is hosted in will dictate every other decision you make as well as inform the overall mood and success of your event.
Hey, no pressure.
There is a checklist of items a venue must have, and most planners would agree on the following:
A great venue staff
Robust tech support
Powerful WiFi
A variety of room options
Plenty of restrooms
Room for signage
Ample parking
But we would add to this list and say it's also important to select a venue that is somehow unique.
Selecting a really unique event venue helps you in a couple of different ways. First, it enhances the overall experience your attendees have. And second, it helps your event stand out from the many others taking place during the year. And that can help you generate more buzz and sign-ups for your next event.
We took a look at some of the most popular cities to host an event and selected some pretty amazing venues. If you are considering hosting an event in any of these cities in the coming year, you may want to take a look at these spaces further.
Event Venues to Consider for 2022, by City
Miami
Miami is such a rich and diverse city. This international hotspot is where you host an event when you want your attendees to let their hair down and party-hardy. The city just also happens to have some pretty awesome event venues. Here are our top picks:
Faena Hotel Miami Beach
Baz Luhrmann is an award-winning Australian writer, director, and producer who is known for visually dazzling films such as Moulin Rouge, Strictly Ballroom, and Romeo and Juliet. If you've ever wondered what it would be like to live inside his head, you can somewhat experience that!
The Faena Hotel Miami Beach was conceived by Alan Faena and designed by Baz Luhrmann and four-time Academy Award winning production and costume designer Catherine Martin. Okay, that's pretty darn unique.
The hotel uses what some have called "an artful visual language" which is reminiscent of the glamour of the 1950s Art Deco scenes. When you spend time in this space, you truly feel like you've stepped back in time. Or at least, have stepped onto an awesome movie set.
This hotel also offers a few different event options, depending on the size you need. Call and inquire about their Sun Bar at the Pool and Beach or their Faena Forum or Faena Theater.
Frost Science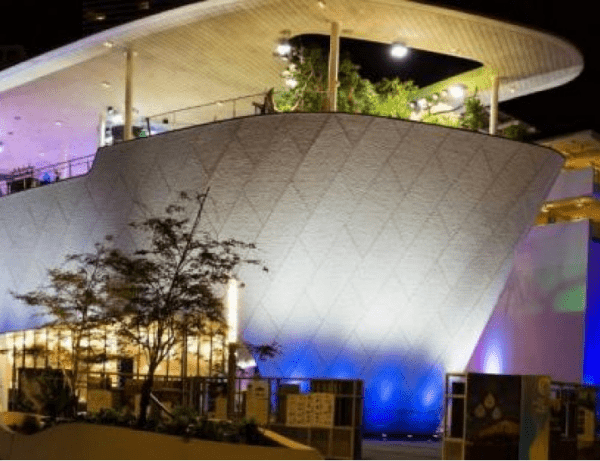 Whether you're hosting a large corporate event, intimate meeting or training session, this space is just cool. And with a maximum capacity of 5000 people, there is plenty of space to hold your attendees.
Want to give your attendees awe-inspiring experiences? This place delivers. There are flexible science exhibit halls, a three-level aquarium, a 250-seat full-dome planetarium and a living rooftop. Plus they provide state-of-the-art audiovisual and production capabilities. You simply can't go wrong.
Regal Kendall Village Stadium 16 IMAX & Rpx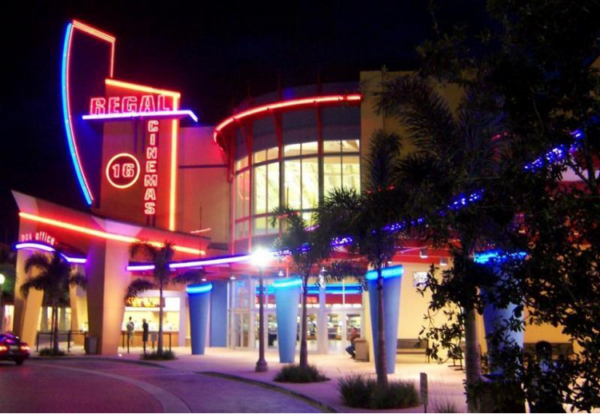 With 16 different spaces and a maximum capacity of 3246 people, this IMAX theater is another great option in Miami. If you have an event where you'll want to leverage giant screens, surround sound, stunning HD and comfortable stadium seating, give this venue a consideration.  Plus, they have on-site planners and meeting management services to help you with your event's finer details. And they even have full-service catering options!
 STK Rebel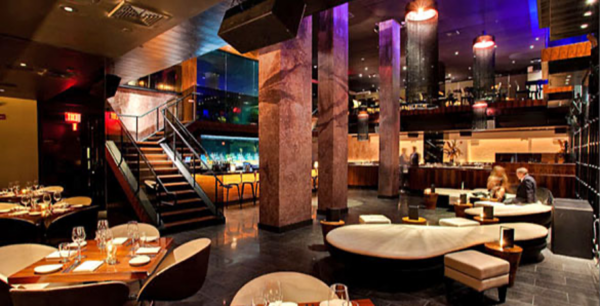 If you're looking for something unique for a more intimate gathering, you've got to check this place out. This gorgeous space can accommodate 180 guests for cocktails or for a seated dinner. But if you want to go smaller and more intimate, there are private entertainment suites on the mezzanine level overlooking the main dining room.
San Diego
As California's second largest city, San Diego is a diverse mixture of culture and landscape. And when you consider the gorgeous year-round whether and the fact the city is accessible by plane, train and car, you understand why it makes a great place to host an event.
Here are some spaces to consider:
San Diego State University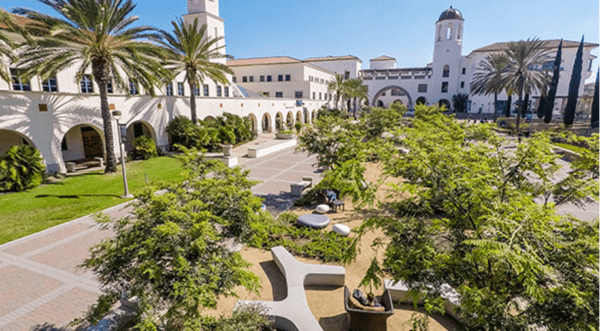 Whether it's for a small meeting, larger corporate event, or huge expo, the university has a number of different spaces, and with a maximum capacity of 12,500 guests. There are actually 200 meeting rooms and several multi-purpose event spaces to choose from.
What we really love about this space is that is offers all of the amenities you could want or need in a unique space. For example, they can accommodate up to 4,000 overnight guests. They also offer:
A 490-seat Theatre – Don Powell Theatre
A 4,600-seat Outdoor Amphitheatre – Cal Coast Credit Union Open Air Theatre
A 1,700-seat Gymnasium – Peterson Gym
8 Tennis Courts – including 6 lighted courts
5 Athletic Fields and 2 Green Spaces – including 3 Turf Fields, 2 Grass Fields
Parking for 10,000 Vehicles
On-site catering options
I mean, come on, that's pretty incredible! And, you're just minutes away from spectacular beaches and scenic mountain ranges.
Maritime Museum of San Diego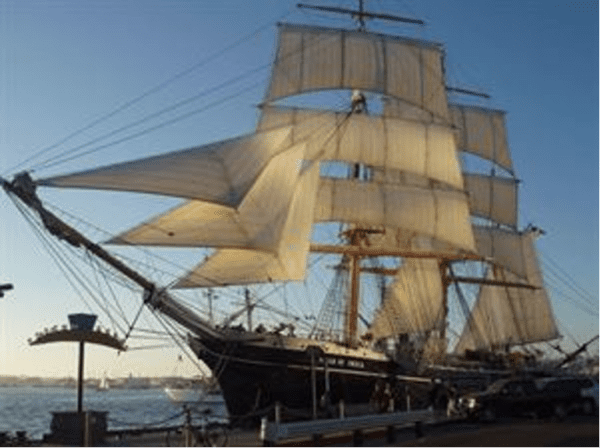 Well it doesn't get more unique than hosting your event on an historic ship. While we don't suggest you make your guests walk the plank, we do suggest you give this world-famous museum consideration if you're planning on hosting an event in San Diego.
The museum offers several different ships. Smaller ones can accommodate up to 50 guests for meetings and team building events, while larger vessels can accommodate up to 700 people. They offer a coordinator to help for planning as well as on-site catering.
The Shout! House – Rock 'n Roll Dueling Pianos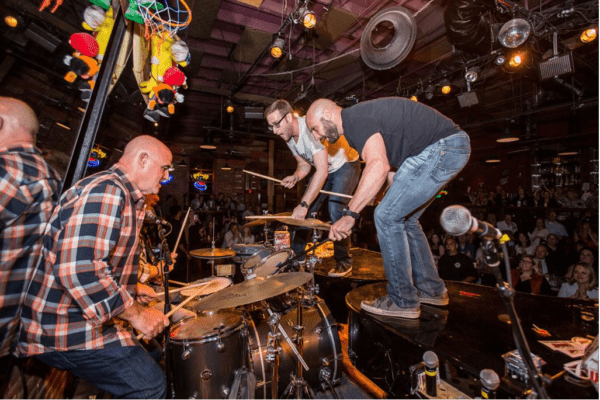 Where do you host an event when you want your attendees to cut loose – footloose? Well, we suggest the Shout! House. This is an award-winning live music venue located in San Diego's historic Gaslamp District.
We love that it is walking distance from most major downtown hotels. And you'll want your attendees to be able to walk back to their rooms, because this venue offers a full bar with Happy Hour parties. We're just saying!
They also have great food, a really cool and helpful staff, and 5500 square feet of space that can accommodate 282 people. Oh, and their entertainment is also pretty unique as well!
Boston
From a rich history to world-class universities and great sports teams, Boston is a city that truly has it all. They also happen to have some wicked venues for your next corporate event. Here are some we love.
Boston Ballet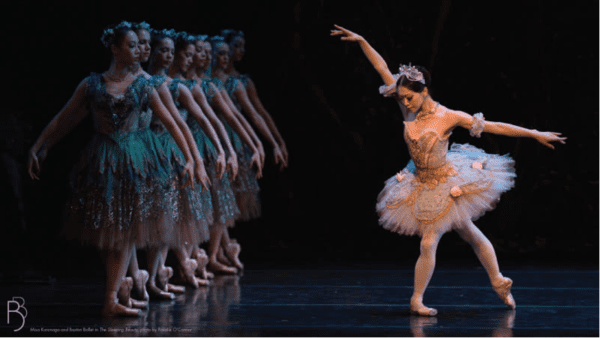 Founded in 1963, the Boston Ballet was the very first professional repertory ballet company in New England. It's now one of the major ballet companies in North America and one of the top companies in the world. And YOU can host your event in this gorgeous space.
The studio is located in the Boston's stunning South End District and offers planners many various sunny areas perfect for hosting meetings and events. A cozy reception area can easily hold 300 people while the theater can hold 2500 people.
If you're looking for a fun theme for your event, consider the Boston Ballet and give your attendees a special behind-the-scenes view of its world-famous dancers.
Boston Public Library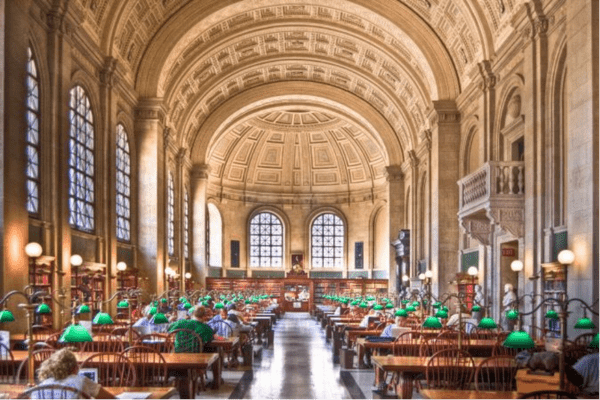 Did you know the Bostin Public Library was this nation's very first public library? Talk about history!
The space is utterly breathtaking and offers different types of event or exhibit spaces. They have a reception capacity of 2100, a theater capacity of 342, and a banquet capacity of 1033. Your guests are sure to remember your event if you host it in such a stunning venue.
Leader Bank Pavilion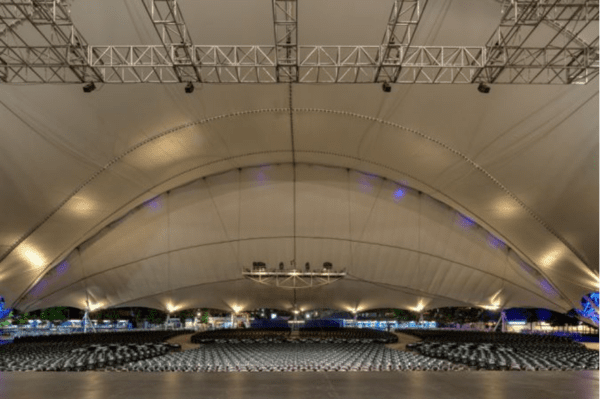 The Leader Bank Pavilion, known among locals as "The Pav," offers an amazing view of the harbor, an incredible open space, and a great staff. It's easy to see why this venue is considered Boston's most popular live music venue.
The location is ideal, being only minutes from the Boston Convention Center, Logan International Airport, and numerous 5-star hotels. With a seating capacity of 5,000 plus a private VIP tent accommodating up to 400 guests, this is an astounding backdrop in which to infuse your imagination.
Austin
Austin is one of our absolute favorite cities in this country. The state capital of Texas, Austin is known for its great food, live music venues, and awesomely weird locals. It's just a great destination to host an event, and it's not short on unique venue options. Here are some we love:
Paramount Theatre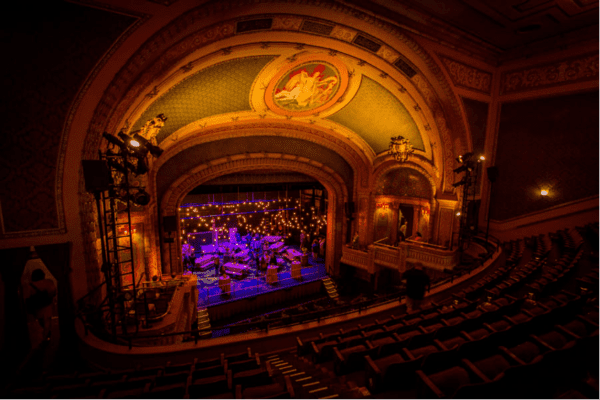 Located downtown and able to host 1200 people, this theater was actually Austin's first performing arts theater built back in 1915. Back in the day, the theater hosted some of the area's top vaudeville performers. It was eventually turned into a movie palace.
While the theater still showcases movies today, it can be rented out for private events. Not only does this venue offer you a rich history, you'll also get a full bar, modern technology enhancements, and a staff that can help you pull off a memorable event.
Speakeasy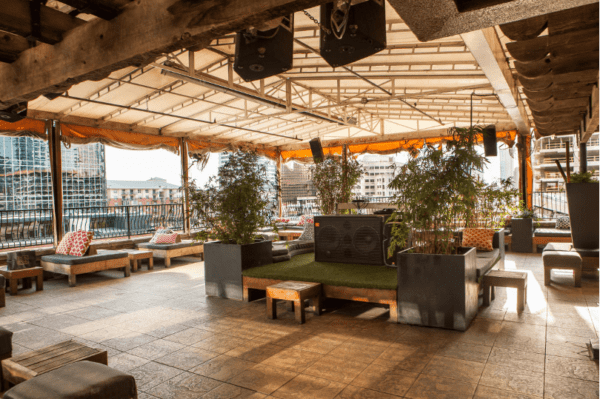 Located in the hip Warehouse District and accommodating 1,000 people, the Speakeasy taps into the bygone (thank God) days of prohibition when illegal speakeasies operated in the shadows.
You have your choice of 4 distinct spaces: a music lounge (think comfy and retro), the Bowling Mezzanine (two lanes available), the Kaberet Room (intimate with a bar, stage and pool table), and Terrace59, a beautiful rooftop setting that overlooks downtown Austin. You can just book one room or book them all to give your event a "wow" factor.
SPIN Austin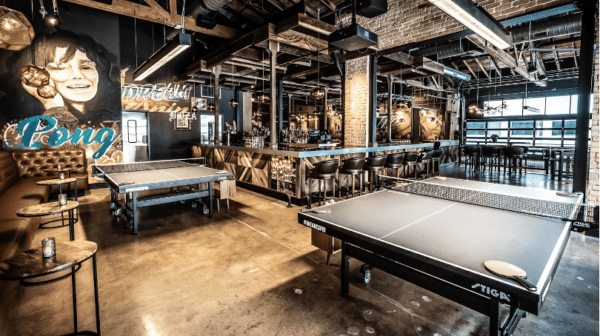 Seeing as Austin is known for food and fun, we had to include this unique venue to the list. SPIN, which is located downtown and holds 300 comfortably, serves up awesome food like BBQ pork belly sliders and carnitas tacos and gives your guests the opportunity to play some ping pong on any of the 13 tables. They provide a full bar, A/V equipment, a house DJ, and an outdoor patio space.
Nothing says team building like a friendly and competitive game of ping pong, am I right?!
The Wrap
There you have them. If you'd like us to cover some more unique venues in some other cities, just tell us in the comments below. Oh, and if you need any help getting a great deal on some of these venues, just give us a shout. We help our clients get the best deals on venues as well as hotels and flights!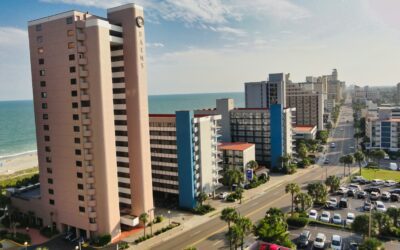 When it comes to choosing where to hold your next sales meeting, there are a lot of things to...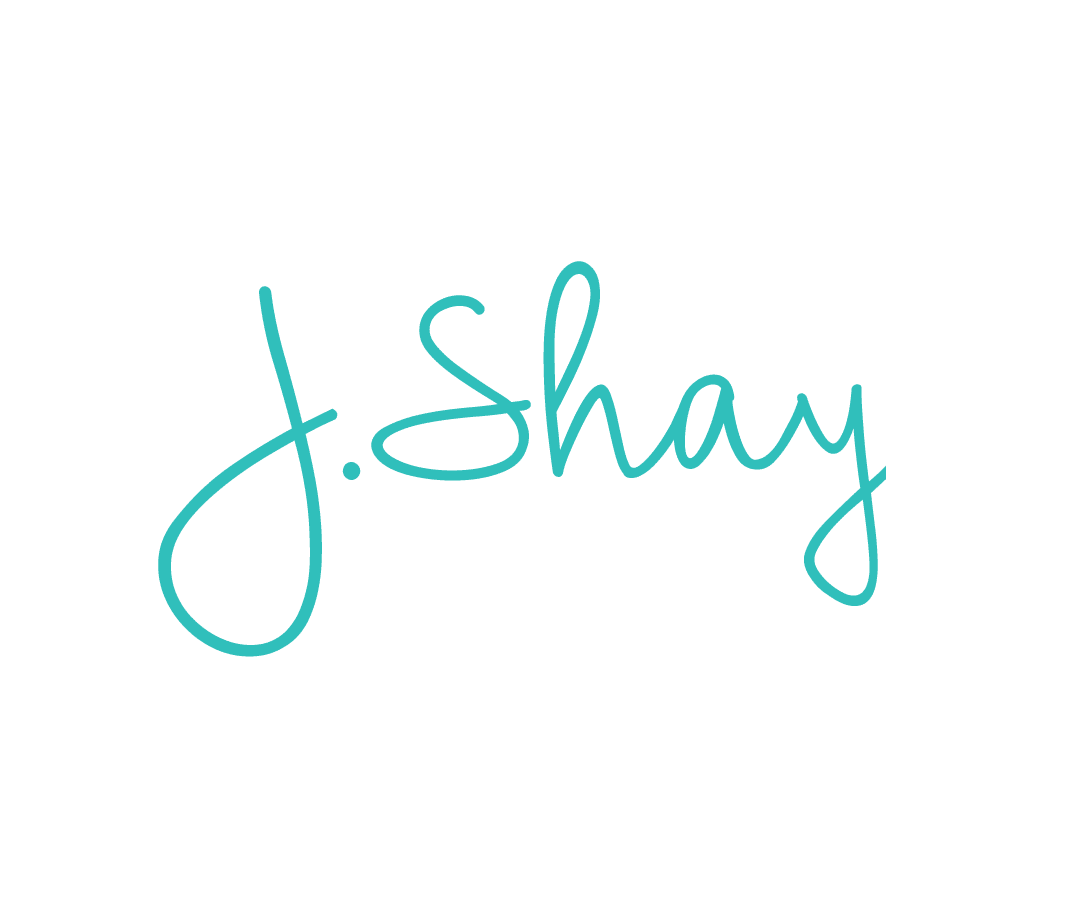 J.Shay Team is the generic alias for our event staff that want to submit work anonymously.