There is nothing more stressful for an event manager on arrival day than seeing a long pile up at your registration desk.
It's 7:30 am, attendees are getting frustrated and the contagious yawns begin – Oh great, we're losing them already!
Using on-site technology is becoming more and more common because it alleviates one of the biggest pain points you as an event manager have.
(Read our article on the Cvent software overview)
Do I need on-site registration technology?
If budgets were unlimited, this is a no-brainer, but we live in reality and tough decisions have to be made!
Knowing where to spend your budget dollars in an event is challenging, but hopefully, this article sheds some light on how event technology like Event in a Box and Cvent OnArrival can help you.
Because unless your badge stuffing parties are "the bees-knees", and it's the party you can't wait all year for, then leveraging technology on-site will change your life by automating tedious and unnecessary tasks such as:
Designing, editing and printing attendee badges
Staying up the night before with several of your marketing/event friends (or victims in this case) to stuff badges in lanyards
Taking up either several boxes or tables full of space to layout your stuffed badges and lanyards
Hiring/managing more registration staff than you need to manually check-in attendees
Manually tracking sessions
Checking out
Accepting Payments
Syncing all data captured automatically with your event management software for smooth and accurate reporting and analysis
In addition to automating and freeing up many aspects of registration, on-site event technology gives your attendees a more positive vibe towards your event.
Let's talk about what technology is involved.
What is Event in a Box?
Event in a Box is essentially all of the hardware you will need for on-site registration. It comes nice and neatly packed into the blue box pictured above, and once unboxed looks like this: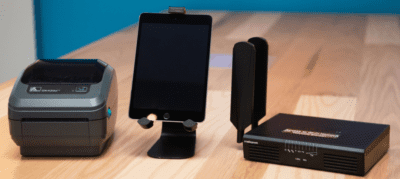 Inside you'll find:
1-2 Badge Printer(s)
2-4 Ipads
1 Router
There are 2 options for Event in a Box, the regular option and the large.
The regular includes (1) badge printer, (2) Ipads, and (1) router, while the large includes (2) badge printers, (4) Ipads, and (1) router.
The Ipads come pre-installed with Cvent OnArrival software.
*note: You must own Cvent OnArrival Premium to leverage the full suite.
What is Cvent OnArrival?
Cvent OnArrival is the software "glue" that integrates the Event in a Box hardware with your existing Cvent Event Management platform for the purpose of aiding you in executing your event on-site.
OnArrival comes pre-installed on the Ipads found within the Event in a Box.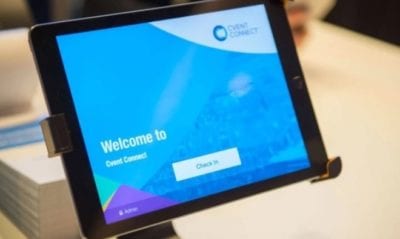 You simply turn on the Ipad, login using your Cvent credentials, and then select your event.
It then syncs the attendees that registered for your site locally.
Waiting for your site to be built?
We build great registration sites FAST.
When should I use this service?
While there are suggestions for when to use the regular event in a box package versus the large (<250 attendees = regular; >250 = large), it really comes down to budget, size of the event, and who your attendees are.
For an internal event where budget is tight, you might consider doing it all manually and foregoing the on-site solutions.
Now if you told me that was the case, but you had 1,000 or more attendees I'd probably suggest finding the budget dollars!
The truth is once you use these solutions you will begin using them for smaller and smaller events because it frees up your own personnel, it eliminates registration congestion, and gives an extremely nice feel and flow to your event as people check-in.
How do I use Event in a Box and Cvent OnArrival?
Without going into too many technical specifications, the high level is that you WILL have a 1-hour call window the morning of your event with Cvent.
However, don't assume they'll walk you through the entire set-up if this is your first time.
You (or someone on your team) really should have some experience in setting up OnArrival and Event in a Box prior to.
Ideally, before you have the support window call, you want to fully attempt to set up everything.
Think of the Cvent call as being best used for troubleshooting only and aim to have the call at least 90 minutes prior to the start of registration so you have plenty of time for unforeseen circumstances.
That means you should start working on the actual set-up about 60 minutes prior to this call. This will give you enough time to make sure all hardware is working, connected, syncing with your Cvent Event Management platform, and of course, you have successfully tested it.
Believe it or not, in our experience about 50% of the time, the venue will have the internet line set up, but it won't be working. You will have to find someone to assist in activating.
Ideally, if you are experienced with the event technology it shouldn't take longer than 15-30 minutes to set up…BUT as event managers you are well aware there are a million variables that can completely derail your perfect plan. So plan on having a buffer.
How do I purchase?
There are 2 main ways to procure the OnArrival and Event in a Box from Cvent, and that's either directly through your account rep, or through a partner like J.Shay Event Solutions.
But keep in mind, whether you purchase the licenses directly, or through a partner like J.Shay Event Solutions, we can build/manage all software or hardware components for your next event, including on-site technologies.
The Wrap
On-site event technologies like Cvent OnArrival and Event in a Box are becoming more and more common, because of the ease of use, and efficiency provided.
Knowing that event technology options such as these exist, what's involved, and how to acquire them can be one of the biggest and quickest improvements to your event management process by alleviating several pain points that most event managers feel during registration.
For help planning and executing your next event, including a more detailed discussion around event technology, submit a brief contact form and we'll be in touch shortly!
Event planners work hard to build event websites that are attractive, functional, and create a lot...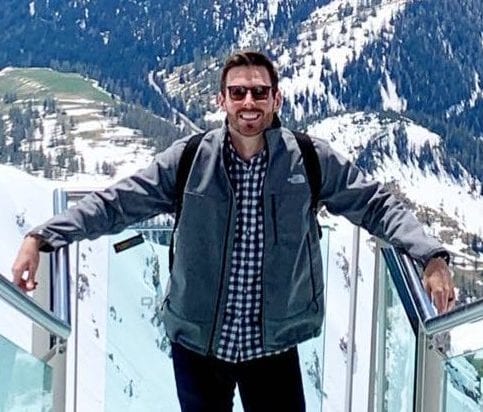 Jeremy Sweat is the Sales and Marketing Director at J.Shay Event Solutions. When he's not working, he enjoys traveling with his wife, scuba diving, and triathlon training.