Cvent Support is one of the biggest pain points we hear from our clients, but you would be surprised at how easy it is to find the answer to your question.
As a Cvent customer, you know that the event management software is fairly complex if you aren't familiar with web building tools. This can and will lead to questions, and eventually problems if you aren't sure how to find the answers you need.
The truth is there are actually several great Support options that can offer quick answers, without having to sit on the phone:
How-to-articles, FAQs, videos
Training courses (login required)
Ask fellow Cvent users (login required)
Chat with Support
Call Support
Cvent Support: Knowing Where to Start
Navigating Cvent Support can be a pain because if/when you call, you'll get a different rep every time.
While they are great at logging call notes and reviewing those while on the phone with you, getting every new Support rep caught up to speed can be time-consuming.
This is why we'll start with online options and work our way up to avoid wasting time.
This means searching for answers yourself, and knowing how to search correctly.
Online Support Options
Note that you need to be logged in to use most of the online support options available.
Navigate to the main dashboard after you've logged in.
The Glossary
First, if you haven't had any luck with the Knowledge Base in the past, it could be because Cvent is very particular with their search terminology.
It's critical to use the language that Cvent understands and promotes to find relevant answers quickly. To get on Cvent's page, let's check out the Glossary.
The Glossary is not complex, but you should spend a minute to make sure you identify the appropriate keywords for your search.
To find the Glossary, click on 'Help & Support' at the top of the page.
Next, click on the 'Search' tab to find the Cvent glossary.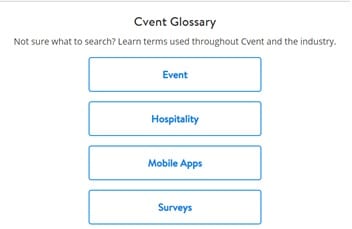 Again, take a minute now to save 10 later by identifying your keywords.
Search the Knowledge Base 
Now we know the keywords that Cvent understands, let's jump to the KB.
In the 'Search' tab shown below, you see 2 options: 'Search the Knowledge Base' or 'Search the Open Forum'
'Search the Knowledge Base' contains content provided by Cvent:
Articles
Interactive guides
Videos
And more
'Search the Open Forum' contains content provided by other Cvent customers: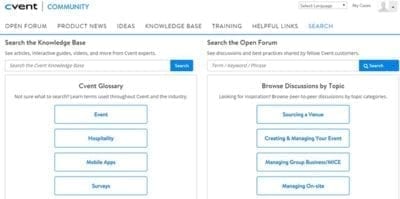 We recommend starting with the Knowledge Base because Cvent-written content will generally be more thorough and explanatory.
The Forum is a great place to go if you cannot find your answer in the KB. Chances are another customer who has had your exact question before but could not find in the KB, posted it in the forum.
Starting with the KB, type in a term/keyword/phrase for the question you have.
Be as specific as possible while using Cvent's terminology.
For example: If your question is about switching an attendees registration type and you type in a general phrase like 'Registration Types', you may be overwhelmed with results. Try searching for 'switching registration type', or another set of keywords that helps filter the results.
Cvent Chat Support
If you could not find an answer between the KB and Forum and your question is time-sensitive, it's time to get connected to a Support representative.
While the Chat and Call options are both great, we usually go with the Chat option first so we're not stuck on the phone for an hour (and potentially longer if several calls are needed).
The downside to Cvent chat over a phone call is what you might experience anywhere: there are more limitations with the information they can send and receive in a chat versus over the phone.
To find the Chat Support option: Starting on the homepage, click on Cvent Community, and finally select 'Chat with Us'.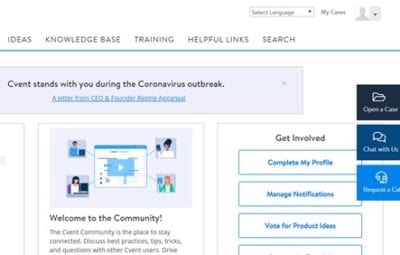 You'll be presented with a brief form that will get a Support representative familiar with your account and question before the conversation begins.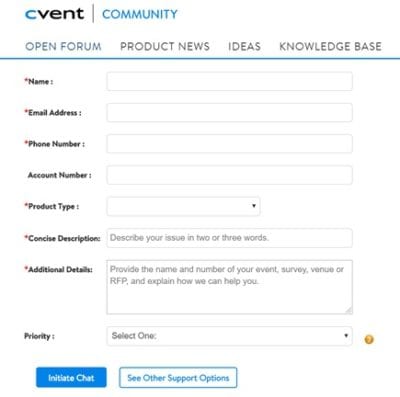 Under 'Concise Description', use the appropriate keywords we identified in the Cvent Glossary.
Next, under 'Additional Details' mention which event this pertains to and be as detailed as possible with your question.
Finally, click 'Initiate Chat' and get connected.
Cvent Support Call
A Support call is usually a last resort because online methods are not only easier but usually quicker as well.
However, this option is the most comprehensive way to get any and all questions answered because of the available resources your Support rep has access to.
To reach Support by phone: 1-866-318-4358
The Wrap
There are great support options available with Cvent.
The pain points we usually hear are almost always related to time spent sitting on the phone with a new rep, and getting them caught up to speed with every new call.
By starting with the online resources available, chances are you'll find more relevant answers more quickly.
For help with Cvent Sourcing and Site Selection, click here.
Waiting for your site to be built?
We build great registration sites FAST.
Event planners work hard to build event websites that are attractive, functional, and create a lot...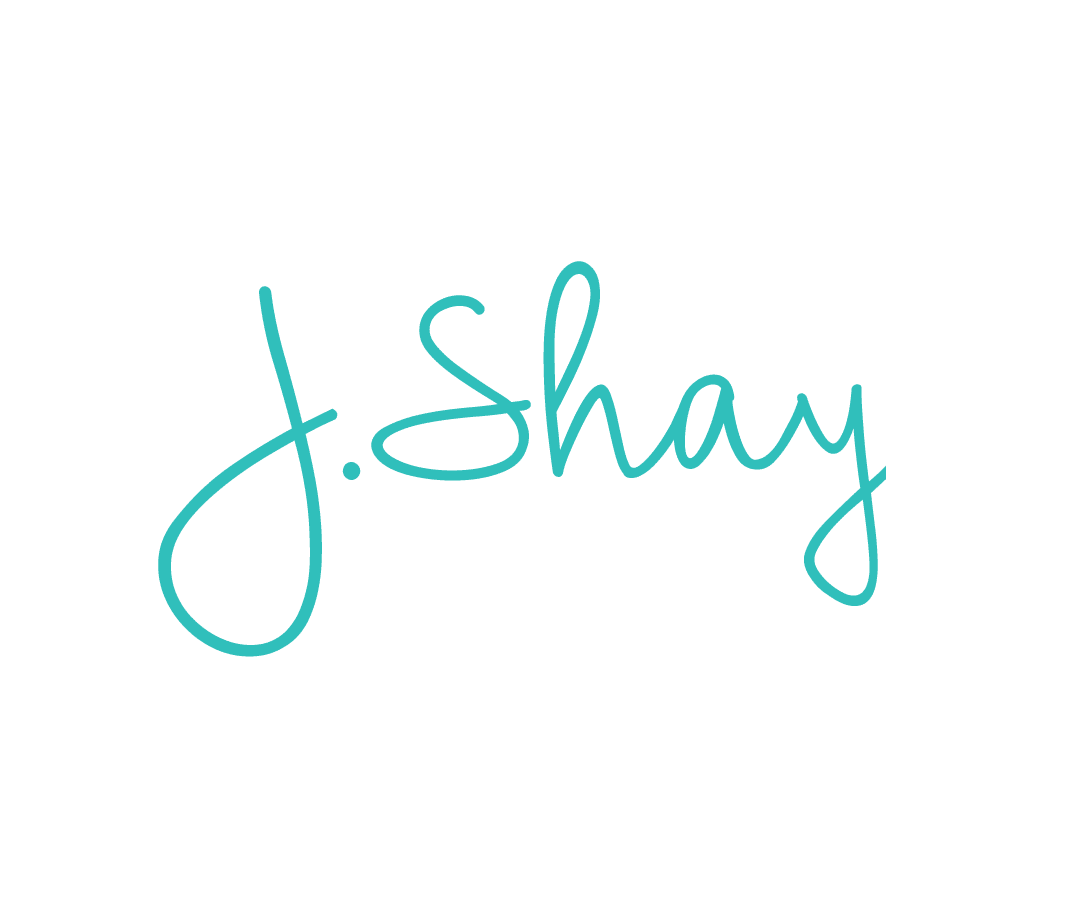 J.Shay Team is the generic alias for our event staff that want to submit work anonymously.