Do you have an event in Dallas to plan for? Get in line!
Nearly 300 people move to the Dallas-Ft. Worth area every day, making it the fastest-growing Metropolitan area in the United States – Or as we call it, the Metroplex.
On top of the cheap(ish) housing, and plenty of land, thousands of companies are moving to Texas every year.
This means even if you aren't hosting an event in Dallas this year, chances are YOU WILL!
The Dallas-Ft. Worth area is hosting more and more events every single year.
Here are some things to consider when looking at Event Venues in Dallas.
Event Venues in Dallas
It's definitely wise to take note of a couple of resources you have when beginning your due diligence.
Navigating the number of Event Venues available in an area with a 7.2M+ population might seem a bit daunting so consider using the Visit Dallas page to make sure you don't miss anything.
This independent shop, VisitDallas.com, lists every venue that an owner has submitted complete with details, pictures/videos, accommodations, and some high-level numbers such as square-feet available.
There are a few ways to slice and dice your search, making it relatively easy to grab a list of what's available.
Room on Main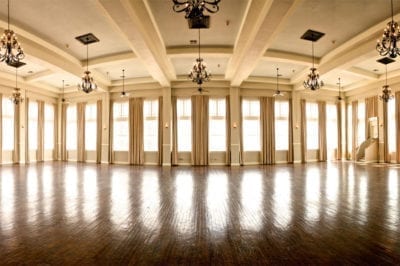 Accommodates: Up to 320 guests
Location: Downtown Dallas
While their website could use more appeal, don't let that dissuade you from checking out the Room on Main.
YES, this is primarily known as a wedding venue, and one of our favorites.
However, they also host corporate events and what better way to show off Dallas to your colleagues from out of town than through this event venue.
With 30 ft tall ceilings, and 15 ft tall windows, everywhere your guests look will be an excellent view.
This event venue in Dallas can be used for day and/or night events for your next corporate get-together.
House of Blues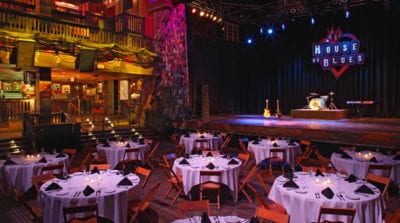 Accommodates: Up to 2,500 guests
Location: Downtown Dallas
The House of Blues is an excellent event venue in Dallas featuring more than 7 Event spaces across 65,000 square feet.
It's a well-known and recognized establishment to anyone in Dallas, and the location is ideally located downtown, just a short walk away from other major establishments.
And, because it's a concert hall, you have the perfect venue for bringing any musical talent to your event.
Granada Theater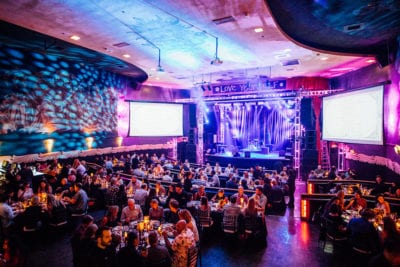 (From site:) 
Accommodates: Up to 1,000 guests
Location: East Dallas, 4 miles from Downtown
The Granada Theater, a locally owned and operated Dallas landmark venue, is located in the historic Lower Greenville neighborhood.
A variety of local and national acts have graced the Theater's stage including: Willie Nelson, Bob Dylan, Adele, The Avett Brothers, The Black Keys, Sir Tom Jones, Leon Russell, David Crosby, Sarah Jaffe, and many more. In addition to concerts, the Theater hosts numerous private events including weddings, business conferences, holiday parties, awards ceremonies, music festivals, fashion shows, and more.
The Theater's state-of-the-art lighting system and renowned sound production team create a truly unique background for private events.
The Granada Theater has an open-tiered, multi-level floor plan that is customizable to your preferred style and guest count. Whether the event is cocktails for 1,000 or a fully seated presentation, there are many ways to enjoy the intimate ambiance the Theater offers.
Sixty Five Hundred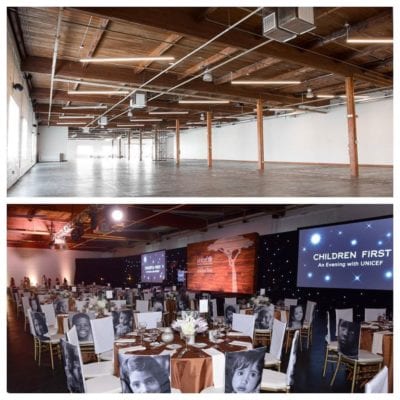 (From site:) 
Accommodates: Up to 1,000 standing guests or 550 seated
Location: Uptown
This is a unique warehouse space, and very popular in Dallas.
Located at the corner of Cedar Springs Road and Mockingbird Lane, space is stylishly arranged and lends itself to events of any size.
The venue is 20,000 square feet recently refurbished to give it a unique industrial feel.
In addition to its 20-foot pinewood ceilings, open floor plan, and stained concrete floors, it features many modern touches, such as customizable downwash LED lighting, a lavishly decorated green room, and on-site lounge furniture.
This is a versatile venue has multiple rental options including a minimum of 6,600 sqft up to 15,500 sqft.
Reunion Tower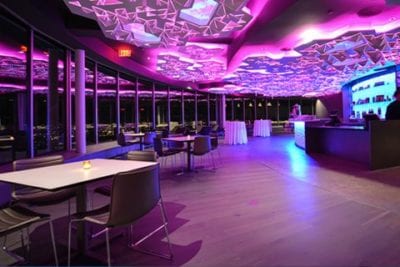 Accommodates: Up to 450+ guests
Location: Downtown Dallas
One of our favorite event venues in Dallas, climbing all the way to 560 feet in the air.
If you aren't familiar with the Reunion Tower in Dallas, the floor plans actually rotate a full 360 degrees so even if you are seated, you'll get to see the entire City! Perfect for receptions, Holiday parties, and so much more.
Up to 3 floors are rentable: Cloud Nine: Up to 300 Guests, Geo-Deck: Up to 150 guests, and Five Sixty.
However, Cloud Nine and Geo-Deck are the decks primarily used for event space, while Five Sixty is a swanky restaurant.
AT&T Stadium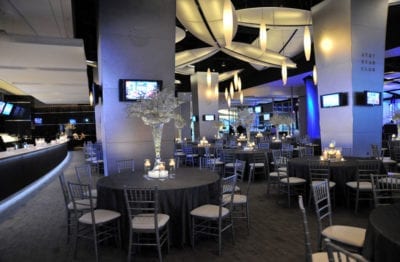 Accommodates: Up to 8,000 guests
Location: Arlington, Texas
Looking for a Texas-sized event space? You found it.
There are only a few really large event venues in Dallas, and if its what you need, this has to be at the top of your list.
The venue can be used for Conferences, Trade Shows, Team-Building, and much much more.
AT&T Stadium has 22 flexible event spaces that are designed to accommodate up to 8,000 guests…Wow!
The Gaylord Texan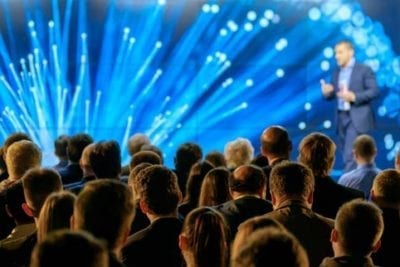 Accommodates: 490,000 sqft
Location: Grapevine, Texas
The Gaylord Texan is another staple in North Texas hosting events throughout the year that aren't strictly for corporate purposes.
For this reason, almost everyone in the Metroplex has heard of the resort and convention center or actually been.
With over 490,000 sqft of space including the 179,000 sqft Longhorn Hall and several ballrooms, there is enough space for all of your guests and then some.
Also, for your multi-day events, consider that a very nice hotel is apart of the property making it easy to keep all of your guests in the vicinity of the duration.
Kay Bailey Hutchison Convention Center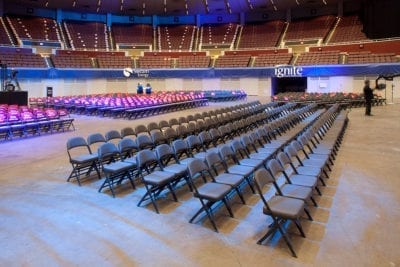 Accommodates: 90,000 guests, standing
Location: Downtown Dallas
If you haven't heard of the Kay Bailey Hutchison Convention Center before..HELLO.
1.4 MILLION Square feet exist as event space with their largest room being over 400,000 sqft.
This venue is typically thought of as one of Dallas' LARGEST event spaces. Perfect for your next large conference, exhibition, or Trade Show.
The Wrap
Dallas is a major sprawl, making up the center of the 7.2 million North Texas residents, and thousands of companies.
Whether your event is for customers, partners or colleagues, event venue options in Dallas are numerous.
When doing the due-diligence for your next event, be sure to realize that even if a large portion of your attendees resides in the DFW area you can still host at venues like Reunion Tower or the Cowboys Stadium.
As large and spread out as Dallas is, it is not uncommon for natives to have never visited any of these staple venues!
For local knowledge and event management services offered for any of these event venues in Dallas, please contact us to see how we can help!
Need help with Event Software?
Registration, mobile, etc.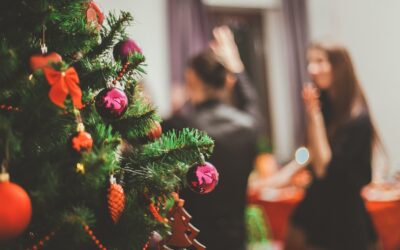 The holidays are a really fun time of year. But planning the holiday office party? That can be a...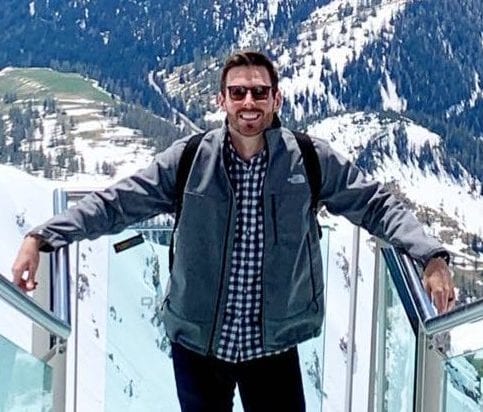 Jeremy Sweat is the Sales and Marketing Director at J.Shay Event Solutions. When he's not working, he enjoys traveling with his wife, scuba diving, and triathlon training.